Did you know that there are over 2 billion active users on Facebook every single day? As business owners, marketers or anyone trying to reach their ideal audience, Facebook is the best place to find them. Not only can you reach them in their news feed and over a dozen other ad placements, but you can target your audience down to the finest detail. All their information is there including their location, birthday, which school they came from, interests and many more. Thanks to the Facebook Pixel now being installed on millions of websites, Facebook can see what pages they visited, the products they purchase, appointments they are booking and much more. In fact, we discovered during the Cambridge Analytica data scandal in 2019 that Facebook has a staggering amount of information – 30,000 points of data per user. Your name, or your birthday, is only one point of data. Let me repeat that – they have 30,000 points of data per user!
Now more than ever, people are spending a lot of time on Facebook and that is why business owners should take advantage of this platform by putting their business on Facebook. According to www.statista.com, as of Q3 of 2019, whereas there are over 2 billion daily users, only 7 million advertisers have run ads on Facebook to advertise their services and products. From this, we really can see how much potential there is for Facebook Ads.
What we commonly hear from prospects, no matter how successful other online businesses are in using Facebook Ads, there are still business owners who failed and don't continue their businesses because they don't know how to use Facebook Ads correctly.
In this article, we will dive deeply into the world of Facebook Ads from the top reason why to use it, how to use it, sales funnel, and useful tips. Let's get started!
Top Reason to Use Facebook Advertising
Facebook is Growing
As the Facebook community grows, the larger number of audiences we have to target. I'm talking about billions of people. Billions of people see ads on their Facebook feeds each month. According to Facebook for Business, advertisers chose the Audience Network because it can reach 16% more people on average than they could by advertising on Facebook and Instagram.
If I were to ask you, "could you tell me how many hours you spend on Facebook in a day?" If your answer is "too much time", the good news is that you're not alone! A recent study from NY Times says that people spend almost an hour on it each day. To quote the study author, "When you really think about it, 50 minutes is a tremendous amount of time — it's huge!". In digital media, time has become a holy grail because it is the best measure of engagement and engagement corresponds to the effectiveness of an advertisement. As Gary Vee puts it, digital marketing is essentially day trading attention. You want to ensure you are reaching your audiences where they are spending the most time. The more time your audience spends on Facebook, the bigger they increase the supply of impressions, which should result in more engagement, clicks and revenue.
Facebook Ads will allow you to reach your exact target audience by micro-targeting features. This means Facebook Ads will send your message to people who are most likely to want your products or services.
How to Use Facebook Ads
As I've mentioned earlier, it is important to know how to use Facebook Ads in order to be successful in this digital platform. First things first, you need to set up a Facebook Page. If you already have one, that's great! You can now go straight to Ads Manager or Business Manager to create your Facebook ads campaign. In this article, we will follow the Ads Manager.
As of 2019 Facebook requires all businesses who want to advertise to use their Business Manager system. It's gotten a lot better in the past 2 years, and is free & easy to set up!
Step 1: Choose your objective
Log in your Facebook Ads Manager, and then select the "Campaigns" on the tabs and then click create to get started.
A window will pop-up and it will show you the 11 marketing objectives that Facebook offers. Here's the list of offers and how they align with business goals.
Brand Awareness

– This will introduce your ads to people who are most likely to remember them.

Reach

– This will expose your ads to the maximum number of people.

Traffic

– This will send people to a destination, like a website, app, Facebook event or Messenger conversation

Engagement

– You will get more Page likes, event responses, or posts, reactions, comments or shares.

App Installs

– This will engage your audience to install your apps.

Video Views

– This will get more audience to watch your videos.

Lead Generation

– This will collect leads for your business or brand.

Messages

– This will encourage people to contact you on Messenger, WhatsApp, or Instagram Direct.

Conversions

– This will get people to take valuable actions, like making a purchase or adding payment info, on your website, app or in Messenger.

Catalog Sales

– This will use your target audience to show people ads with items from your catalog.

Store Traffic

– This will show your ad to nearby people to visit your brick-and-mortar stores

It is important to choose your campaign objectives based on your goals. We often recommend starting with traffic or conversions as your objective.
Step 2: Name your campaign
After proceeding from Step 1, you will be needing to name your campaign. This will also include other campaign details such as buying type and an option to edit your objective. You will also choose whether to turn on budget optimization or not. This option can be useful if you have multiple ad sets, but for now, you can leave it turned off.
After this, click next.
Step 3: Budget and Schedule
In this step and to the next steps, you'll be providing the necessary information about your ad. Take note that you have to fill out the necessary information wisely otherwise, you need to create a separate ad account if you need to change some info.
First, you must name your Facebook Ads Campaign. Like in any other platform and advertisements, you'll need to decide how much money you are willing to spend for your Facebook Ad Campaign. You can choose if it's a daily or lifetime budget. You'll also need to set the start date and end date for your ad.
Step 4: Select your Audience
There's no shortcut on ways to target your audience using Facebook Ads Manager. The first option is to add a custom audience of people who have interacted with your business on or off Facebook. Using what you know about your target audiences, such as locations, age, gender, languages, and other details, choose the demographics, interests, and behaviors that best represent your audience.
If you'll scroll down a little bit, there's another set of fields, Detailed targeting, and Connections.
Detailed Targeting

– Defines your audience by including or excluding demographics, interests, and behaviors.

Connections

– In connections, you can reach people who have a specific kind of connection to your business.
Remember: Effective targeting is the key to maximizing ROI.
Step 5: Decide where to run your Ad
Next is choosing where you want to run your ad. It can be on Facebook, Instagram, Messenger, Audience Network or across them all. In this step also, you can choose to run ads on mobile devices.
For Manual Placements, you can place your Facebook Ads in specific locations. Below are the options:
Device type:

mobile, desktop, or both

Platform

:

Facebook, Messenger, Instagram, or Audience Network

Placements

: Feeds, Stories, in-stream (for videos), messages, in-article, apps and sites
Specific mobile devices and operating systems:

Android, iOS, feature phones, or all devices
Step 6: Optimization and Delivery
This step is used to help Facebook understand your ad campaign's goal. This selection will affect who sees your ads to get you to the desired outcome.
Step 7: Create your Ad
First, enter your Ad Name and then proceed to identity. For identity, you will choose which page you are going to promote and if you'll connect it to an Instagram Account.
You will then proceed to the Create Ad section wherein you'll be uploading your image, video, carousel, slideshows, and more. And in the right section, you can preview your ad to make sure your ad looks good and if you're happy with everything, click the "Publish" green button on the lower right portion of the page and then wait to get an email from Facebook notifying that your ad has been approved.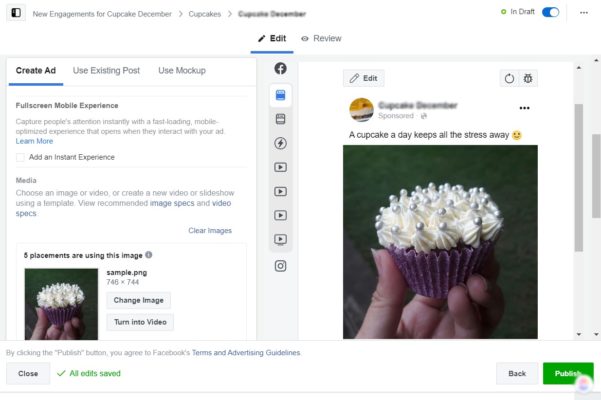 5 Smart Tips on Using Facebook Ads
Tip #1: Experiment with Audience Targeting
In this tip, you have to start with a small number of audiences first and then broaden it slowly by adding one category at a time. For example, you'll post an ad about "cosmetics" and then broaden it after a few weeks. By then, you could add more categories like "swatches", "skincare & cosmetics" and so on. In that way, you'll have a good idea of how the target audiences affect your result.
We always start our campaigns by doing 3 steps of split tests. Step one, we will test multiple audiences to find the right customer for our brand. Then, we focus on the content and offer – what messages work best? Step three is about ad formats and placements. Niche down and create ads for each placement and see what works best!
Tip #2: Use Facebook Pixel
Facebook pixel is a code that can have a big effect on your Facebook ad campaign. This code will allow you to track conversions, remarket to people who have viewed a product on your site, and create lookalike audiences.
Don't worry if you think this is too advanced, we suggest installing it now because you'll have the tracking and remarketing data ready when you are ready.
Tip #3: Use top-notch Photos and Videos
It's all about the images. According to MDG Advertising, Images are powerful on their own. It will grab the viewer's attention and can create the best impression of that image. So in this case, avoid posting a turnoff, these are blurry or pixelated photos or jumpy videos.
Check out this list of websites that can help you source high-resolution images to use in your ads:
You should not make any assumptions on Facebook Ads. Every time you try something new, make sure to test it compared to your previous ads so you can see whether you're making improvements or not.
Tip #5: Track and Optimize Performance
Closely monitor all of your campaign performances in the Facebook Ads Manager dashboard. By this, you can see the bigger picture of your ads and if you're spending your money on a wrong campaign by reallocating money from your under-performing ads to top-performing ads.
As mentioned on tip #1, run several ads with a small number of audiences and budgets. Once you've determined which works best, use the winning ads as your primary campaign.
Importance of Building a Sales Funnel
People normally go to Facebook to avoid looking for stuff and that's a fact, they don't want to shop. Most of the people on Facebook only use the app to kill some time. Of course, business owners will need to find some ways to capture people's attention, not just by throwing up an ad for random "cold" people to purchase your product and actually expect good results. That is why Facebook Sales Funnel was created.
According to Agorapulse, the sales funnel is designed to capture user's interest and nurture them until they're ready to purchase. A series of campaigns will have different objectives that can get attention and awareness and will result in converting.
Awesome content can get people's attention. You can start by posting lighthearted or useful blog posts to get their attention. In this stage, you need enough viewers to get fast, relevant data. You can find these audiences based on their interests, then refine them with demographic criteria.
The goal of this campaign is to transform strangers into leads by creating ads tailored to people who were just on your website. If you have a large site, we suggest limiting audiences to the past 30 or 60 days to make sure you're targeting the most engaged people. In this way, your site will still be fresh on their minds and can still catch their attention.
Now here's your time to shine. Send product offers that are too good to be true so they can hand over their payment info!
To sum this up, the first step will bring people in, the second step will warm them up, and the last step will get them to convert.
New Facebook Ads Ideas on Creating unique content
Now, for our last part, still not sure what you should promote with your Facebook Ads? Here some three campaign strategies from Hootsuite to help you out! If you need more inspirations, check out these great Facebook Ad Samples.
Strategy #1: Convert a proven piece of content into a video ad
The goal of this strategy is to repurpose. Every brand has a monthly campaign and has few pieces of content that drive most of the traffic. Altering that content into a short video is a great way to repackage content for Facebook Ads.
Strategy #2: Drive a direct sale
If you are targeting people who have already considered buying your product, then you're doing the most effective ways to drive sales directly. Especially if your brand is really known as a good brand and a good product, and the price is at a low price point, then there's no reason Facebook can't generate direct sales. You can also use the "remarketing" technique, wherein you can try offers, product recommendations or reminders to complete a purchase.
Strategy #3: Think beyond the web
According to Hootsuite, Facebook will allow you to track offline conversions so you can understand the effectiveness of ads that drive sales online. So you don't have to limit your Facebook Ads strategy to online sales. With your objective, you can promote it offline, too.
As you can see, Facebook Ads are not that complicated. We hope this article will help and guide you on achieving your first-ever campaign. If you need any help with your Facebook Ads, leave us a message or book a FREE consultation with us! We offer Facebook Ad management from just $99 a week. No long term contracts & hundreds of reviews from happy clients 🙂 Check out some of our packs here: https://socialgeeks.com.au/

We'd be happy to help your business grow through Facebook Ads.