If you use WordPress, chances are that you have installed plugins and themes to satisfy your particular needs. With the massive WordPress 5.0 release, it's important that you update your plugins and themes
before you update to WordPress 5.
Some themes and plugins may not be compatible with the new version of WordPress without updating them first, so this is very, very important! There are thousands of plugins and themes publicly available on
WordPress.org
and other third-party websites but installing a plugin, a theme, or even WordPress itself, is just the first step. With WordPress being used by 30% of the internet, it's no surprise that many business owners are needing to know how to use WordPress. As it continues to grow in popularity, the number of plugins and themes are growing too. It's super important that you update your Theme's and Plugin's regularly for security, performance and peace of mind!
Why Update Your Plugins?
WordPress plugins and themes are just like any computer program or mobile apps. These programs apps have regular updates which provide new features, address security issues or to fix bugs. The biggest concern for WordPress websites are bugs. These can come in many shapes and sizes with different levels of security concerns. A bug could be something like an issue that prevents your users from being able to login. In more dire cases, bugs can be serious security holes. Regardless of their level of severity, software bugs must be fixed. As a user, when a software update is released that fixes a bug, you should update as soon as possible to have the most secure and stable versions of the product.
Where Do You Find New Updates?
WordPress is great and simple to use. Updates can be easily found in the the updates section of your admin dashboard. There is even a section in the admin toolbar (the section running across the top of your page) that shows the updates icon (🔄) & number of updates.


Updates Menu
On the screenshot below, you should be able to see "Updates" and the number of available updates. If this number doesn't appear that means WordPress and all your plugins and themes are up to date!

Updating WordPress
Updating WordPress itself is very important. Since version 2.7, it is possible to update WordPress quickly and easily thanks to a one-click method. This method is preferred, as WordPress will automatically download and replace the right files by itself. That way, you avoid errors and gain time. To update WordPress in one click, go in the 'Updates' entry of the 'Dashboard' menu. If you don't have the latest available version of WordPress, you will see the message 'An updated version of WordPress is available' before two buttons. The first button is the one-click method. If you click on the 'Update Now' button, WordPress will lead you to another page which will inform you of the progress: automatically, it will download the latest version, deactivate your plugins, replace the right files and reactivate your plugins. All you have to do is wait just a few seconds or minutes.

Updating Plugins and Themes
Updating core WordPress is important, but it is also important to update the themes and plugins you use, as a bug in one of these can affect your whole installation.
Updating in One Click
Just like updating WordPress, you are able to update plugins and themes in one-click. If there are some plugins or themes that can be updated, they will appear here, right below the part which tells you if a new version of WordPress is available or not. To update your plugins, select them and click on the 'Update Plugins' button. The same can be done with themes: select them and click 'Update Themes'.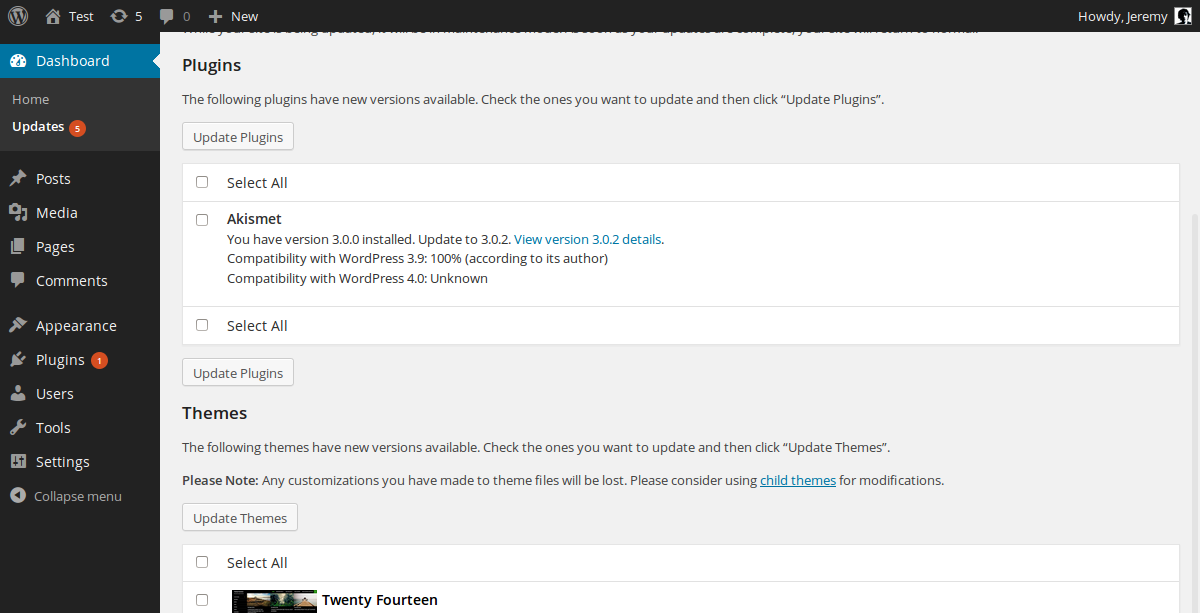 Check Compatability!
It's important that you ensure the plugin is compatible with your theme, WordPress version and other plugins. A common issue we encounter with new client websites is issues with their plugins. Poorly designed plugins might clash and cause problems with your website. Properly tested plugins are a good indication that they will not cause issues. It's important to verify the plugin shows it's compatible with your website and other major plugins before installing or updating on your website.
In Conclusion
Running the latest versions of the software you use is important. Now, you know how to do this with WordPress, its plugins and its themes. As you can see, there is more than one way to update them. You should always opt for the one click and automatic methods as they are simpler, quicker and less likely to be a source of errors. However, updating manually is still an option and, sometimes, it is the only one, so it is also important to know how to do this. Automatic updates are practical if you want to always have the latest version of WordPress, plugins and themes. It is possible to automatically update all of this so lack of time can't be an excuse not to update!